2023 Green Season
Tanigawadake, a beautiful mountain nearby.

You can easily access it from the Tokyo metropolitan area and enjoy a magnificent view of the Japanese Alps.
Dec. 1, 2023
2023/12/02 10:00 updated
This is an important notification display test.
Snow Depth

15

Wind Direction

No wind

Wind Speed

0 m/s
This is a comment display test.
Information
Date of Operation

◆Until Nov. 12, 2023, [Weekdays] 8:00 AM-5:00 PM, [Saturdays, Sundays, and holidays] 7:00 AM-5:00 PM. The last ropeway ride uphill to Tenjin-toge observation deck takes place at 3:30 PM.
The last ropeway ride uphill to Tenjindaira takes place at 4:30 PM. *A gondola departs approximately every 3 minutes. (Departure intervals may vary)
*The transportation time is approximately 15 minutes one way; the fastest time could be 7 minutes
Ropeway & lift fare

The fares below have been adjusted since Dec. 1, 2022

To Tenjin-toge observation deck

(a set of ropeway & lift)

Ropeway only (to Tenjindaira)
Round trip
Adult
¥3,500
¥3,000
Child
¥2,000
¥1,500
One way
Adult
¥2,300
¥1,800
Child
¥1,400
¥900

*Group fares are available for groups of 15 or more people. Please contact us for details.
*Adults must be at least 13 years old. Children must be between 7 and 12 years old. Children under 7 are free.
*Primary and elementary school students will be charged the same fares as 7- to 12-year-olds.
*Children under the age of 7 will be charged the same fares as 7- to 12-year-olds when riding individually or in a group.
*A reduced fare is available to those with a physical, intellectual, or mental disability certificate (and one caregiver for each person with a disability certificate). Please bring and display the certificate when using the ropeway.
Parking Fee

500 yen for cars, 5,000 yen for buses (1,000 yen for buses if the group takes the ropeway)
You can only pay cash for parking. You can pay for Ropeway&lift fee, restaurants and shop in cash or by credit card.
Beloved
Tanigawadake Ropeway
The charm of Tanigawadake Ropeway (funitel type)
The 2,400-meter (2,625-yard) long stroll up in the sky

The Tanigawadake Ropeway is a funitel ropeway (double loop mono-cable automatic circulation gondola). Funitel is a blend of the French words funiculaire (steel cable railway) and teleferique (aerial tramway). Despite the harsh mountain enviroment and ever-changing mountain weather with strong winds, it provides a comfortable ride at all times. There are only three funitel ropeways in Japan, and we are proud to say that Tanigawadake Ropeway is the longest among them. Enjoy a 15-minute aerial stroll with a total length of 2,400 meters (2,625 yards).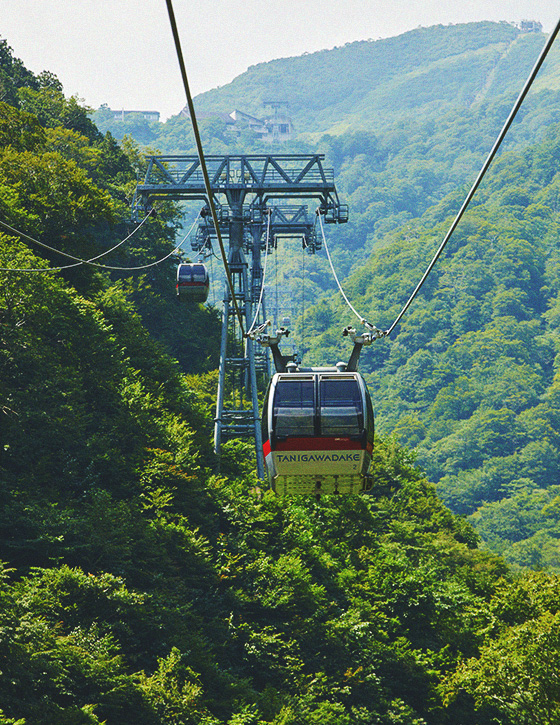 Fun to eat, fun to ride
When you arrive at Tenjindaira by taking the uphill ropeway, you will find the observation restaurant "View Terrace Tenjin". Here, you can enjoy your meal while admiring the Tanigawa mountain range through the window. Continuing up the lift, you will find Tenjin-toge - the number one "view point" of this area - where we operate the Tenjin Cafe, serving food and seasonal drinks made from local ingredients. You may also rent electric-assisted bicycles to easily reach Ichinokurasawa, a popular spot on Mt. Tanigawa. Let's enjoy Mt. Tanigawa in multiple ways, not only with our eyes, but with our whole body as well!
Restaurant
View Terrace Tenjin
| | |
| --- | --- |
| Location | 3 minutes walk from Tenjindaira Ropeway Station |
| Hours of Operation | 10:00 AM-4:00 PM / please order by 3:00 PM |
| Featuring | The bread gratin, which is freshly baked to order, was introduced in June 2023. You can enjoy a meal with a panoramic view of the Tanigawa mountain range outside the window. |
| Menu example | |
Cafe
Tenjin Cafe
| | |
| --- | --- |
| Location | Tenjin-toge observation deck |
| Hours of Operation | 10:00 AM-3:00 PM / please order by 3:00 PM |
| Featuring | This is a take-out only cafe at Tenjin-toge observation deck. Why not enjoy a drink and/or light meal made with local ingredients while gazing at Mt. Tanigawa? |
| Menu example | |
E-bike rental for cycling
Location
Base Plaza 6F
Hours of Operation
9:00 AM-4:30 PM / Available for rent until 3:00 PM / return by 4:30 PM
Eligible participants
Junior high school students and above
*Guests under 145cm and weighing over 100kg are not allowed.
| | |
| --- | --- |
| Price | 1.5 hours / 1,800 yen (tax included) |
| Featuring | As you are visiting Mt. Tanigawa, one of the top three rocky mountain areas, how about an exhilarating cycling tour at Ichinokurasawa? With the E-bike (sport bike with electric assist system), you can ride uphill comfortably. Enjoy the spectacular view of Ichinokurasawa while cycling swiftly along the trail in the beech forest. |
Booking
*Link to the reservation system of an external site.
Seasonal highlights
May to mid-June

The contrast between the remaining snow and the fresh greenery of the Tanigawa mountain range

From early May

Katakuri's flower (Japanese fawn lily)

From late May

Mizu-bashō (Japanese swamp lantern) at Tenjin-toge

Mid-June to mid-July

Shirane-aoi (Japanese wood poppy)

Late June to mid- or late July

Nikko-kisuge (Day lily) blooming peak

Early October to early November

Autumn leaves about a month
Facility Guidance
Tenjin-toge pair lift

The two-person sightseeing lift takes you from the ropeway terminal (1,319 meters / 1,442.5 yards) to the Tenjin-toge observation deck (1,502 meters / 1,642.6 yards) in approximately seven minutes. A variety of alpine plants will be blooming around your feet, or you can view flowers while riding the lift during the summertime, especially with daylily blossoming. You may even encounter animals living in Mt. Tanigawa area if you are lucky.

Tenjin-toge observation deck

You will be surrounded by the panoramic scenery of Mt. Tanigawa when you are at the Tenjin-toge observation deck (at an altitude of 1,502 meters or 1,642.6 yards). Aside from Mt. Tanigawa, you can also see Mt. Nikko-Shirane, Mt. Shibutsu, Mt. Akagi, and possibly Mt. Fuji! It is also possible to climb to the summit of Mt. Tanigawa from the Tenjin-toge observation deck. There are Tenmangu and Benzaiten enshrined near the observation deck.

Shop

The shop is located near the ticket counter. Come to get souvenirs from Minakami Town and Gunma Prefecture, including sweets, food products, and local sake "Tanigawadake," as well as mountain goods such as mountain badges, hand towels, and T-shirts.
Access/Parking
Location

Yubukiyama National Forest, Yubiso, Minakami Town, Tone District, Gunma Prefecture, 379-1728, Japan
By Shinkansen/train
By car
Parking lot information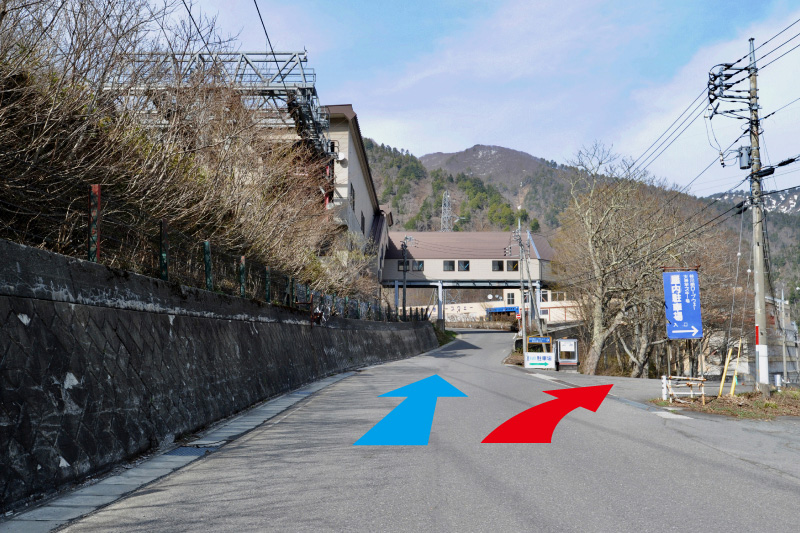 For vehicles with a height below 2.1 meters (6.89 feet) - Follow the red arrow in the picture on the left to the indoor parking lot (multi-level parking lot). 
For vehicles with a height of 2.1 meters (6.89 feet) or more - Follow the blue arrow in the picture on the left to park in the outdoor parking lot (6th floor).
Parking at night
The parking lot is only open on the first floor (multi-level parking lot, approximately 40 slots).
*Vehicles with a height of 2.1 meters (6.89 ft) or more are not permitted to be parked in the multi-level parking lot. Please park in the outdoor space located in front of the entrance to the multi-level parking lot.
There are restrooms available in the parking lot at night.
The parking lot may be closed from 6pm to 7am during the busy season (Obon, late September to early November, etc.).
NO setting up tents / NO using fire-related items such as gas burners in the parking lot. Behaviors that violate fire prevention measures and disturb other guests are strictly prohibited.
※It is important to note that if you are found to be in violation of the parking lot rules, you will be asked to leave immediately.